The North American leaders in TV & feature film production equipment, workflow/dailies, post-production and studios merge eight founding companies to streamline client experience.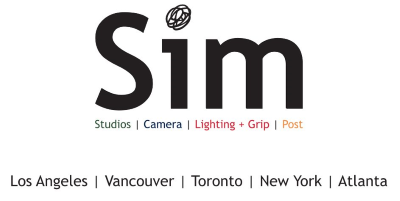 TORONTO, Oct. 12, 2017 /CNW/ – The SIM Group, is pleased to announce the completion of a comprehensive branding-review of its eight founding companies (Bling, Chainsaw, Crossing Studios, Pixel Underground, Post FactoryNY, PS Production Services, SIM Digital and Tattersall Sound & Picture), and that the collection of companies will be re-branded under one cohesive name – Sim. The name Sim acknowledges the group's entrepreneurial foundation and culture while simplifying the client experience. Sim will promote its end-to-end services by operating under four divisions: Studios, Camera, Lighting & Grip, and Post.
"By streamlining the company names, Sim is providing clarity over its breadth and depth of services while continuing to develop and promote its dedicated award-winning talent that will continue to provide boutique support to our clients," said James Haggarty, CEO, Sim."We are immensely proud of our foundation of entrepreneurialism and innovation, and we look forward to providing our clients with the same exceptional results, efficient processes and personalized approach they have become accustomed to but now under one banner."
Sim's purpose is to provide outstanding service and cohesive solutions that empower creators to do what they do best. With a goal of being the preferred partner for storytellers, Sim's award-winning business offerings include:
Sim Studios: Sim offers clients over 400,000 square feet of first-class studio and production facilities in 

Vancouver

Sim Camera

: From single camera to multi-camera, Sim delivers cameras, lenses, and gear combined with top-tier engineering support worldwide
Sim Lighting & Grip: With an unparalleled reputation for service and support, clients can expect an expansive selection of lighting, grip, generators, transportation and support to best meet their project's needs

Sim Post

: Storytellers rely on Sim's boutique services, providing editorial office space, on-set data management (including digital dailies, editorial system rentals, data archiving and more), offline and online talent, editors, flame artists, audio sound engineers, colourists and more to translate their creative vision from set to screen
"The only thing that has changed is our name," continues Haggarty. "Our culture, team and talent remain the same, as does our commitment to accountability and creative thinking that generates breakthrough solutions for our clients."
Sim operates facilities in every major production hub in North America, acting as a trusted partner for content creators in Los Angeles, Vancouver, Atlanta, New York and Toronto. More information can be found on Sim's new website at siminternational.com or on social media @simcomplete.
About Sim
Sim is a leading supplier of studios, production equipment, workflow/dailies and post-production solutions. With offices spanningNorth America, Sim's team and services have supported features such as "Deadpool" and Oscar-winning documentary, "OJ: Made in America," and hit series "Game of Thrones," "Mr. Robot," "Stranger Things" and "Handmaid's Tale." Sim Studios supports tv series, feature films and commercial productions with over 400,000 square feet of first-class studio and production facilities in Vancouver.Sim Lighting & Grip provides services and equipment from hubs in Vancouver and Toronto; Sim Camera provides rental equipment and support from hubs in Los Angeles, Vancouver, Toronto, Northern Ontario and Atlanta. Sim Post provides an array of services from workflow/dailies, to online and offline editing, to final color/DI and visual effects, to sound editorial and mixing.Sim Hollywood is located in the former historic Eastman Kodak building, and provides the industry's only camera-through-post services venue. Sim is backed by Toronto-based investment firm Granite Partners. For more information, visit siminternational.com or visit us on Facebook, Instagram, Twitter and LinkedIn @simcomplete.
Granite Partners
SIM Group is majority-owned by Toronto-based investment firm Granite Partners.  Granite, founded in 1996, is Canada's leading boutique private equity firm and has an unparalleled track record of helping owners of profitable mid-sized businesses (revenues of $10 million to $100 million) build upon and unlock the value they have created in their businesses.