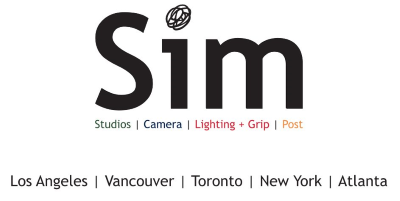 September 5, 2017 (TORONTO): The SIM Group is pleased to announce the acquisition of Vancouver's fastest- growing full-service studio and production facilities provider, The Crossing Studios. To better serve its clients, SIM Group, a family of companies who delivers expert services across television, feature film and commercial production and post-production industries, will now also offer approximately 400,000 square feet of first-class studio and production facilities.
The Crossing Studios has quickly become a preferred and desirable destination for Canadian and international productions. With proximity to downtown Vancouver, Vancouver International Airport and all local suppliers, The Crossing Studios has been home to some of North America's top rated television series, specials and feature films.
In addition to providing full service studio rentals, mill/paint/lockup space and production office space, The Crossing Studios also offer post production services including Avid suite rentals, dailies, color correction and high speed connectivity. Now that The Crossing has become part of the SIM Group, the services available under one roof have expanded exponentially to make cameras, lighting and grip, as well as award-winning post production talent and facilities available to their extensive client roster.
The Crossing Studios was founded by Dian Cross-Massey in 2015 and is the second-largest studio facility in the lower mainland, comprised of nine buildings in Vancouver, all are located just 30-minutes from downtown. Cross-Massey has over 25 years of experience within the entertainment industry, having worked as a writer, executive producer, visual effects supervisor, director, producer and a production manager, winning numerous awards including a Clio award and gold medal at the New York Festival for Film and Television. Cross-Massey's production experience differentiates her from other studio operators because she knows first-hand how to anticipate client needs and contributes to the success of her clients' projects.
"What attracted us to SIM was our joint commitment and dedication to superior customer service through building and maintaining long-term relationships," says Dian Cross-Massey, Founder, The Crossing Studios. "When I was a producer, I worked with Sim regularly and always felt they had the same approach to fair, honest work as I did, so when the opportunity presented itself to combine resources and support our shared clients with more offerings, the decision to join together felt right."
The Crossing Studios team works with clients including Viacom, Fox, Nickelodeon, Lifetime, Sony Pictures, NBCUniversal, and ABC, to name a few. Cross-Massey's experienced team has a finger on the pulse of the greater Vancouver area and ensures they locate the perfect space to meet each production's unique requirements, be it short-term or long-term.
"The decision to add The Crossing Studios to the SIM family was a natural one," said James Haggarty, CEO, SIM Group. "Through our end-to-end services, we pride ourselves on delivering streamlined solutions that simplify the customer experience. Dian and her team are extremely well-respected within the entertainment industry,
and together, we'll not only be able to support the incredible growth in the Vancouver market, but clients will have the option to package everything they need from pre-production through post for better service and efficiencies."
The combination of The Crossing Studios and the SIM Group is seen as a positive for the creative community in British Columbia. "Dian and her team at The Crossing Studios have contributed immensely to the vibrancy of Burnaby's economy and to Metro Vancouver's production capacity," said Prem Gill, CEO, Creative BC. "I am excited that SIM Group has invested in Dian's entrepreneurial accomplishments as this will continue to catalyze growth and new opportunities for British Columbians working in our province's motion picture industry." SIM represents a family of services that creators and storytellers in television, feature film and commercials rely on to deliver end-to-end solutions and best-in-class service that exceeds client expectations. SIM operates facilities in every major entertainment hub in North America, acting as trusted partners for content creators in Los Angeles, Vancouver, Toronto, Atlanta and New York.
About The SIM Group:
The Sim Group is a leading supplier of production equipment, workflow/dailies and post-production solutions. With offices spanning North America, Sim's team and services supported features such as Deadpool and Oscar-winning documentary, "OJ: Made in America," and hit series Game of Thrones, Mr. Robot, Stranger Things and Handmaid's Tale. PS Production Services provides lighting and grip from hubs in Vancouver and Toronto; SIM Digital provides boundary-less camera rental house equipment and support from hubs in Los Angeles, Vancouver, Toronto, Northern Ontario and Atlanta. Bling, Chainsaw, Pixel Underground, Tattersall Sound and Picture, and, Post Factory NY provide an array of services from workflow/dailies, to online and offline editing, to final color/DI and visual effects, to sound editorial and mixing. Sim Hollywood is located in the former historic Eastman Kodak building, and provides the only camera-through-post services venue. For more information, visit simgroup.com.
About The Crossing Studios:
Led by Dian Cross-Massey, The Crossing Studios is a stage and production services company integral to the ongoing growth of Vancouver's thriving film and television industry. The Crossing Studios offers studios, mill space, lockup and office facilities, as well as a full range of production services. Operating the second largest studio facility in the lower mainland of Vancouver, comprised of 9 buildings and close to 400,000 sq. ft. The Crossing Studios works with prominent international clients including Viacom, Fox, Nickelodeon, Lifetime, Sony Pictures, NBCUniversal, and ABC. For more information, visit www.thecrossingstudios.com
About Granite Partners
SIM Group is majority-owned by Toronto-based investment firm Granite Partners.  Granite, founded in 1996, is Canada's leading boutique private equity firm and has an unparalleled track record of helping owners of profitable mid-sized businesses (revenues of $10 million to $100 million) build upon and unlock the value they have created in their businesses.